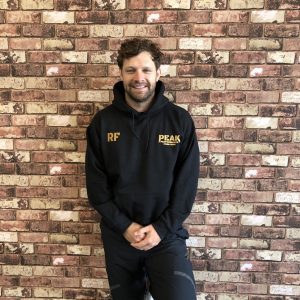 The Brief…
6 Days / 385KM / 17500M Elevation 
Experienced Runner 
Post Injury
12 Weeks Prep
We do you start?
Nutrition – Strength & Conditioning – Recovery
With the Nutrition you start with the essentials;
Sleep
Hydration

 

Daily Calorie Requirements
Luckily sleep wasn't difficult but there was a need to refocus on hydration – little & often with a pint on wake up & a pint before bed.
We worked out quite easily that he needed 3500 calories a day with the lion share of the macros weighted towards Carbohydrates & approximately 30% from Protein to aid growth & repair. 
After 4 or 5 days of hitting those calories he was feeling well fed & well energised with no sluggish side effects.
The client was already accustomed to intra-race fulling so we were sorted with the nutrition & we monitored boy composition every two weeks with the aim of increasing bodyweight by approximately 5lbs. 
With the nutrition under control it was about how to approach the training…
In this order;
Recovery (active) – it's needed, its non negotiable

 

Strength & Conditioning – ditto above
Technical – poor conditions / limited sleep / uncomfortable sleeping arrangements / elevation / time on foot / distance

 
The image shows how this panned out..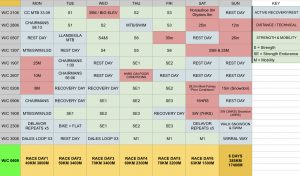 We set the 12 weeks almost identical to how it looks now but parts of it evolved, namely the rest / recovery / active recovery periods.
This is an experienced runner so the technical aspects were only asmall  fraction of what he thought would be needed.
The technical aspects were made easier by being mobile, well rested & well fed. 
Something I need to mention;
One of our benchmark sessions in terms of progress was The Chairman's Challenge in Heswall.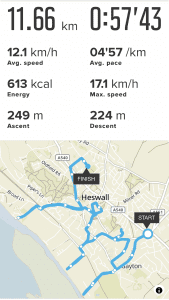 This was always going to be done the day after a big technical challenge.
The first effort was after 30miles on the Glyderau Range in Showdonia..
The second effort was 3 weeks later after 75 miles across 3 days..
The third effort was a week later after a 10m bimble in North Wales
The forth & final effort was after an Excalibur Marathon 26.2m & Snowdon Horsehoe 15m
Mega efforts on one of the hardest runs around 🙌🏼
…..
OK, so we can see the training has gone extremely well – he was committed throughout & completed every task as set, and often a little more. 
What comes next?
Nutrition Race prep 

We know roughly what he will have for breakfast & evening meal 
We know roughly what the days race will need energy wise (based on data from training sessions)
We know exactly what is in his race pack
What we don't know is how the event is going to pan out. The amount of variables that effects all those figures in terms of expenditure is big. 
What we have done is get the essentials right from early on ✅
3500 calories per day, everyday + any activity calories that can be replenished

 

Sleep
Hydration
Recovery
Active Recovery

 
We have a contingency with the race pack ✅
We know we have at least 1600 calories from breakfast & evening meal ✅
Good Luck Mark
Look forward to see how you get on in September 
🍳🥔🍌
Facebook – Personal Trainer – thefranklinmethod