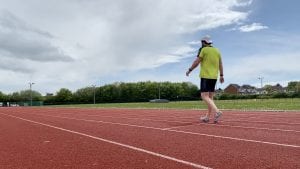 This is me, on a home straight in 2021 aged 39..
25 years ago I ran a PB & School Record of 23.7s for the 200m – keeping me as City Champ for the 3rd year running.
I'm looking to recreate this form … 😬
I know, right, here's the thing though – it may look/sound/be unrealistic but imagine the benefits gained from having a go.
So where was I starting?
January 2021:Body Composition & Speed
– 228lbs; post Sumo Deadlift 1RM phase of training so I was stacked with muscle and also a fair amount of BF.
Richard Franklin Sumo Deadlift 170kg at 230lbs
I set myself a target of 42lbs to shift.. I'm at 28lbs & that's enough for now.. I'm lean & fast with no real scope to restrict any food or add any further activity 🙂
– 200m: how long does it take me nowadays?
January 21 > 38s
February 21 > 35.6s ..
March 21 > 34.9s ..
April 21 > 31.3s ..
May 21 > None Recorded
June 21 > 28.7s
July 21 > None Recorded
August 21 > 26.5s
Where am I now?
50m > 9.6s
100m > 13.6s
150m > 22.6s
200m > 26.5s
400m > 62s
8 months in 👌🏻
Just getting started